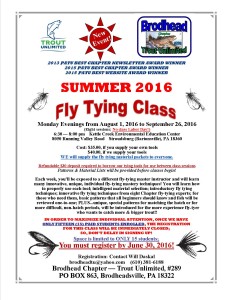 The registration deadline for the Brodhead Chapter of Trout Unlimited's new summer fly tying class is this Saturday, June 25.
The eight classes are from 6:30-8 p.m on Monday evenings from August 1 through September 26. There will be no class on Labor Day.
Classes will be held at the Kettle Creek Environmental Education Center in Bartonsville.
The cost of the program is $35 if you supply your own tools, $40 if the Chapter supplies the tools. All fly tying materials necessary will be supplied.
Each week, you'll be exposed to a different fly-tying master instructor and will learn many innovative, unique, individual fly-tying mastery techniques! You will learn how to properly use each tool; intelligent material selection; introductory fly tying techniques; innovative fly tying techniques from eight Chapter fly-tying experts; for those who need them, basic patterns that all beginners should know and fish will be reviewed one-to-one; PLUS…unique, special patterns for matching the hatch or for more difficult, non-hatch periods, will be introduced for the more experience fly-tyer who wants to catch more & bigger trout!!
To register, contact Will Daskal, brodheadtu@yahoo.com (610) 381-6188