Pomeroy McMichaels Creek Nature Preserve
Over the years, we have completed multiple habitat improvement projects in streams throughout the area. Currently we are working to improve the trout habitat within McMichaels Creek near Stroudsburg, PA. Winding through the greater Pocono region, the McMichaels provides anglers of all ages with the opportunities to catch beautiful brown and rainbow trout. In areas with attractive habitat such as streamside brush, downed logs and large boulders, trout thrive. However, a significant stretch is devoid of much-need cover. It is the goal of the Brodhead Chapter to provide this necessary habitat in order to improve the recreational fishery for our community.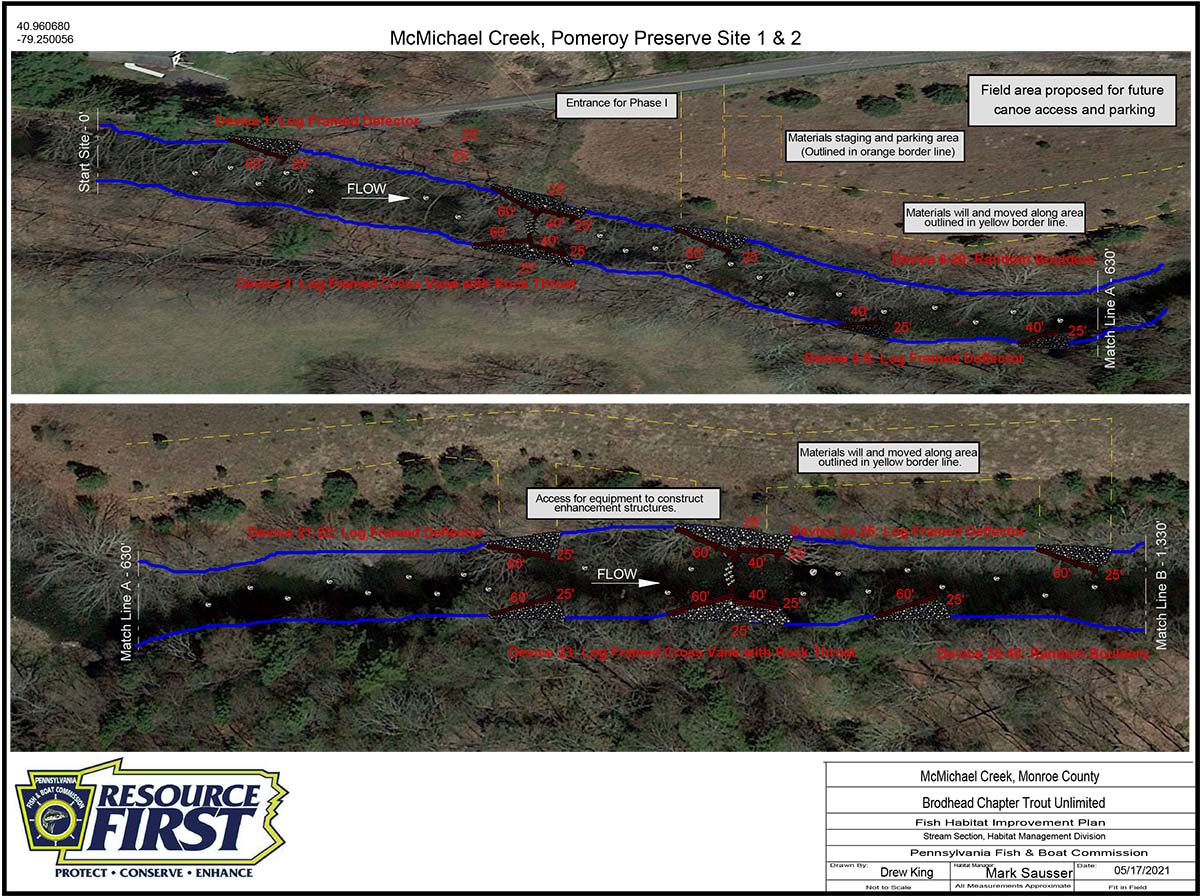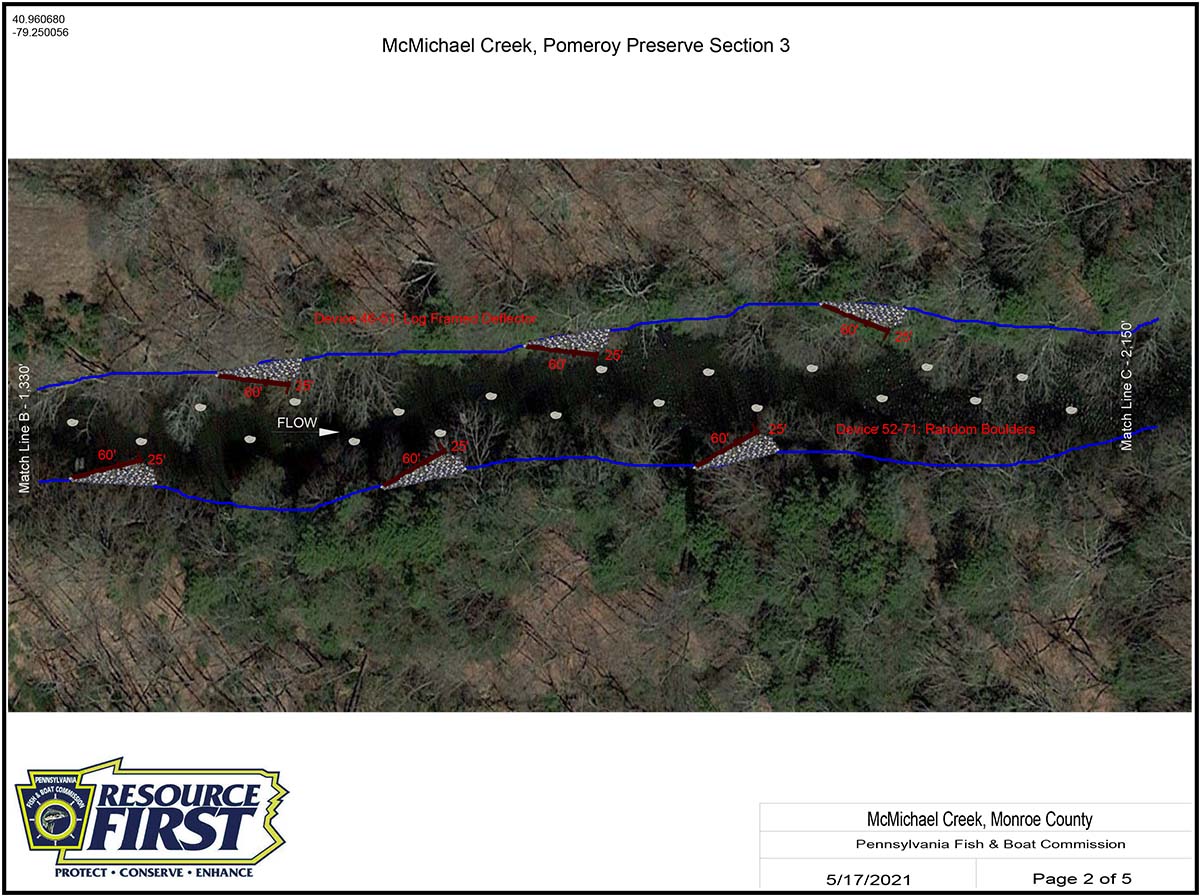 The Chapter's project work area is within the recently opened Pomeroy McMichaels Creek Nature Preserve in Hamilton Township. Managed by the Pocono Heritage Land Trust, the preserve provides homes to a wide variety of wildlife including white-tailed deer, great blue herons, a bald eagle and, of course, trout. But it takes time, energy and funding to purchase the raw materials and install them as deflectors, boulder placements and cross-vanes within the stream. To help fund the construction of these habitat devices, the Chapter is participating in the Trout Unlimited – Orvis Embrace A Stream Challenge from November 8-14.
Through your support, we will be able to increase the number or areas where trout will shelter, feed and hide. With better habitat comes more fish and a better angling experience for all.
Past Projects:
McMichael Creek Restoration Project – Completed


For several years, our Annual Banquets have been raising funds that would eventually permit us to take concrete steps to revitalize the McMichael Creek. Now, in conjuction with the support of a grant from the Brodhead Watershed Association, we're able to put these accumulated funds to good use. We're pleased not only to announce, but to show all of you, that the Brodhead TU Chapter's major stream restoration project on the McMichael Creek has finally reached the operational phase!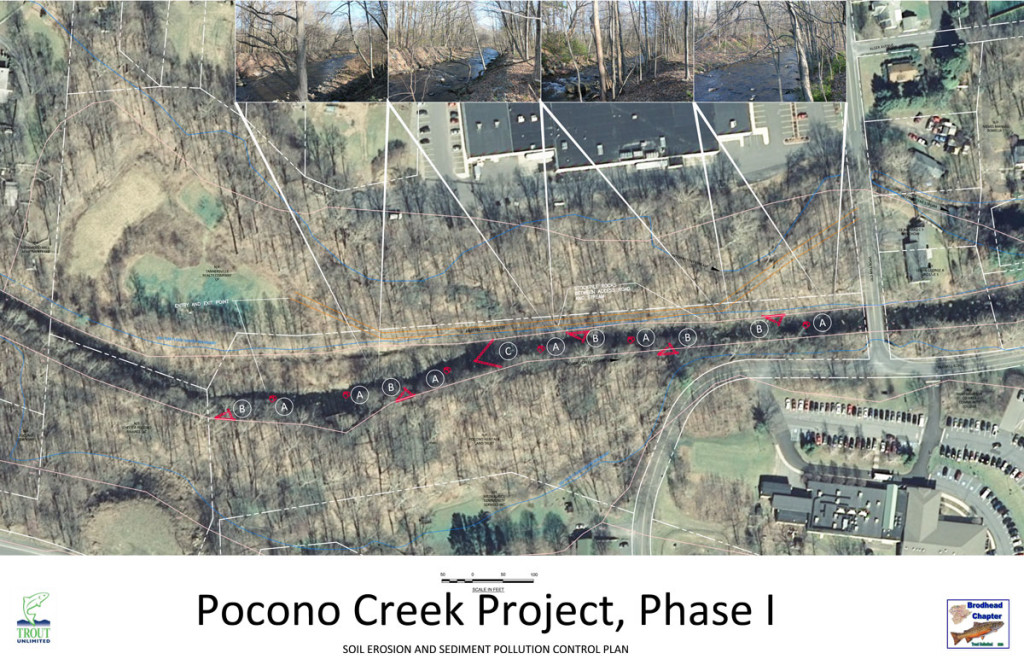 Pocono Creek Restoration Project – Phase 1
The purpose of this project is to improve the habitat of a historically channelized section of the Pocono Creek. This will accomplished through the installation of stone deflectors, stone cross-vanes, and random boulder placement within the stream channel. The placement of these structures will cover approximately 0.03 Acres of the streambed.
In August 2015, volunteers electrofished the creek to assemble baseline data that will be used to assess the success of the project after it is completed.
On-Going