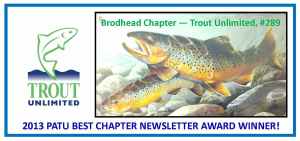 The Brodhead Chapter of Trout Unlimited (Chapter #289) is pleased to announce the successful expansion of our chapter's membership to over 270 members! We've grown over the years, but more importantly, we've managed to maintain our numbers without any significant attrition under the direction of our Officers and our Board of Directors!
We'd like to encourage you to help us in our efforts to "Conserve, Restore and Protect" the most delicate portions of Monroe County's wonderful watershed, by supporting us with your membership in The Brodhead Chapter of Trout Unlimited. Our chapter number is 289!
Download the Chapter Membership Brochure.
Click here to Join TU as a New Member. You will be taken directly to the Trout Unlimited website.
To renew an existing membership, click here.
By joining us, you will be able to stay on top of chapter activities, as well as important notices regarding issues relating to the health and vitality of Monroe County's trout streams!
Please use our Chapter number 289 when signing up.
If you are a new member, here's some of what you'll receive for your special introductory membership:
Membership in our local TU chapter
The opportunity to meet other anglers and participate in projects, events and meetings
One year subscription to National TU's award winning quarterly TROUT magazine filled with articles on TU's conservation work and angling tips
Personalized membership card with discounts on hotel and car rentals
Personalized return address labels and our beautiful full color fly fishing calendar
We'd love to have you as a member, whether or not you fish.
Healthy streams benefit everyone, not just anglers.
Our Chapter meets regularly to hear about fishing hot spots, discuss conservation issues, plan work days on our home waters, organize fund-raisers, and of course, swap a few fish tales and learn how to tie the latest fly patterns. All members also receive TROUT, TU's award-winning color magazine. You'll get four issues a year, full of conservation news, updates on TU activities, grassroots success stories, and fishing destinations. Trout Unlimited is incorporated as a 501(c)(3) non-profit educational, charitable organization, and all monetary or property donations are tax deductible to the extent allowed by law.